Your 2019 Conference coincides with a one day road closure on the access road between Penrith and Newton Rigg College. If you have been before please note the new directions below.
Revised Directions
To the Transactional Analysis Cumbrian Conference at Newton Rigg College, Penrith, CA11 0AH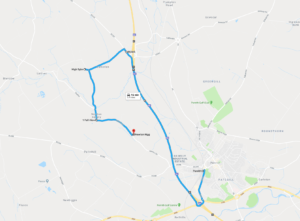 The Newton Rigg College is situated on a 200-hectare estate, just a few miles from the town centre of Penrith, at the gateway to the Lake District. Penrith is on the main west coast train route and is only ten minutes away from Ullswater and the picturesque scenery of the Lakes and mountains and on the coast to coast cycle route.
The food at Newton Rigg College is prepared on the premises using a range of excellent Cumbrian food producers and suppliers including award winning cheeses and relishes, pies and breads. The beverages are Fair Trade and a range of Fair Trade products are served.
By Rail
Penrith is on the main west coast rail line. There is a further choice of cross national routes, which call at Carlisle, 22 miles away. and have frequent rail connections to Penrith. It is a fifteen minute taxi ride from the station to the campus or a 30 minute walk.
Inform the Taxi Driver that the bottom end of Newton Road is not accessible due to road works and that you'll need to go via Junction 41 and Newton Reigny.
By Road
Leave the M6 motorway at junction 41. At the roundabout: if travelling from the North take the last exit, if from the South take the first exit, the road is signposted B5303 Wigton, Silloth.
Take the first left signposted Catterlen, Newton Reigny, Laithes.
At the end of the road turn left, drive through Newton Reigny and follw the road round a left hand bend out of the village and on to Newton Rigg College
Newton Rigg – Postcode Directions & Map:
Can be obtained from http://www.newtonrigg.ac.uk/the-college/centres
We will be using the Sports Hall, Brambles Restaurant & the Grizedale Building
Accommodation
There is a good range of accommodation locally to find out more information click on links below –
http://www.eden.gov.uk/visit-eden-in-the-lake-district/tourist-information-centres/penrith-tic/
http://www.visitcumbria.com/pen/penrith.htm